High power smart integrated LED solar street light 80W 8000lumen

Model NO.

NOMO-PVMSL8000lumen

Technical Specifications: Performance SPECSItem nameLED solar street lightLumen Flux8000LumenPV ModuleSunpower 135W 18V     LED Source,Total:80W;life time:50000hoursLED c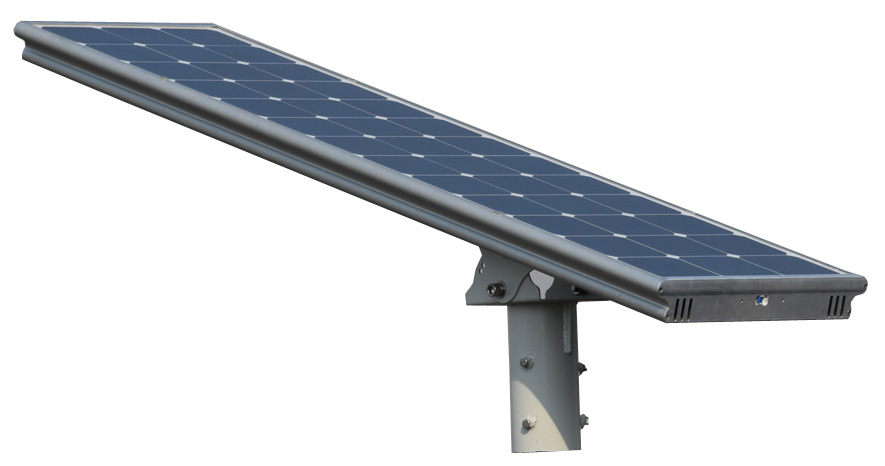 Technical Specifications:
Performance SPECS

Item name

LED solar street light

Lumen Flux

8000Lumen

PV Module

Sunpower 135W 18V

LED Source

,Total:80W;life time:50000hours

LED chip, SAMSUNG

Viewing angel, 60°*120°

Color Temperature: 3000K~3500K(warm white)/6000K-6500K(cool white)

Color rendering index :>70

LED Efficiency:≥120LM/W

Initial Delivered Lumem Tj=25℃: 8000lm

Normal Luminous Flux Tj=66℃: 7000lm

Battery Capacity

Lithium-ion LI Fepo4,12.8V 66AH

Life time: 5-8years

12.8V 5A

MPPT Controller

Timing mode: The multifunctional controller, can be set up

Circuit Protection: Overcharge, discharge, short circuit, open load, lightning protection and other functions

On grid backup: optional features

The outer solar panels: optional features

Working Time(Battery full)

Timing mode to:2Days

Charging Time (STC)

6-8 Hours

Certificate

CE,ROSH,IP65

Installation Height

4 m to 8m light pole

Clearance of Installation

70mm-90mm

Installation Diameter

15m to 25m

Other SPECS

Operating Environment

Charging:0~60℃

Discharging:-20~65℃

Storage Temperature

0~45℃

Package Size/Quantity




Net Weight/GW

26kg/28kg

IP Rating

IP65
Advantage to cooperate with us
1.High strength entirety aluminum profile, gorgeous and durable.
2.Solar panels can be easily disassembled to make your maintenance easier and simpler. Battery box with aluminum packaging, better thermal performance, protection class IP65;
3.Super brightness imported LED chip, more than 180 lumen/W. Greatly reducing the power consumption of the whole light fixture.
4.High quality imported PMMA lens, professional light, the optical efficiency reaches at 94%;
5.Top quality level LiFePO4 battery, safe and long lifespan.
6.High efficiency >21.5% solar panel.
7.High efficiency MPPT control system, through the smart internet system, can observe all the lamps information at any time by the PC, mobile phone, PAD. such as: battery voltage, solar panel voltage, charge current, work status, operating power;
Solar light features
1. Solar Panel auto cleaning system( Optional )
2. Smart Internet system,remote controlling,make the real inteligient lighting (Optional)
3. 5-8 years lifetime top level LIFE PO4 battery, withstand high temperature up to 60 degree,safe and no exploded risk.
4. Unique heat dissaption design and battery case inside ensure the lighting working performance.
5. Super brightness LED Chip : CREE / PHILIP/LG/ SAMSUM best SMD and COB led chip, best solution by own tech up to ensure 180lm/ W lumen.
6.High Strength entirety aluminium profile,gorgeous and durable.
7. Professional street light illumination distribution
8. Efficiency >21.5% solar panel
9.90 degree by 360 degree angle adjustable holder,no shadow.
您可能喜欢