2017 newly develped smart solar light for street can be used as parking lights , led pole light with wireless controlling system

Model NO.

Nomo-HP300/5000/8000

  2017 newly develped smart solar light for street can be used as parking lights , led pole light with wireless controlling system  NOMO  all in one LED solar street lights with in
2017 newly develped smart solar light for street can be used as parking lights , led pole light with wireless controlling system
NOMO all in one LED solar street lights with intelligent control system ( NEW Hyperion generation )
Thanks to the efforts of NOMO R&D teams, new generation of AIO LED solar street lights is created by NOMO group in 2017, it is the new products with more featured function, more energy saving, durable.
It set Auto ON /OFF, time dimming, smart operation in one system with elegant NOMO patented design. It is expected to be the most popular solar street lights in the world, it is called Hyperion, and it is not only a solar street lights, but also a smart lighting system.
It is very simple to use, no separate battery pack required with replaceable battery pack with drawer design and no complicated wiring or settings.
All you need to do is to install it with screws to the pole. The lights will switch on when the sun sets and switch off when the sun rises.
First developed customization service according the different requirement of brightness and lighting purpose.
NOMO all in one LED solar street lights with intelligent control system Models : HP-3000 HP-5000 HP-8000 with 7 different lumen output from 2000LM-8000LM
HP-3000

1.Mono solar panel: 50W 2.LED Chip: 3535 LED 3. CCT: 3000K-6000K
4.Back up time:3-5 days
5.Working mode: Auto ON/OFF ,Time Dimming/ Smart Operation System Optional
6. Lamp size: 905*350*80mm
Carton size: 1295*420*140mm
Parts size: 370*310*305mm(2units/ctn)
7.Loading: 20GP:480PCS / 40HQ:1170PC

HP-5000

1.Mono solar panel:90W 2.LED Chip: 3535 LED 3. CCT: 3000K-6000K
4.Back up time:3-5 days
5.Working mode: Auto ON/OFF ,Time Dimming / Smart Operation System Optional
6. Lamp size: 1295*350*80mm
Carton size: 1375*420*140mm
Parts size: 370*310*305mm(2units/ctn)
7.Loading: 20GP:350PCS / 40HQ:850PCS

HP-8000

1.Mono solar panel:120W 2.LED Chip: 3535 LED 3. CCT: 3000K-6000K
4.Back up time:3-5 days
5.Working mode: Auto ON/OFF ,Time Dimming / Smart Operation System Optional
6. Lamp size: 1700*350*80mm
Carton size: 1780*420*140mm
Parts size: 370*310*305mm(2units/ctn)
7.Loading: 20GP:280PCS / 40HQ:680PCS
NOMO all in one LED solar street lights with intelligent control system
Products photo :
HP-3000 2000lm and 3000lm available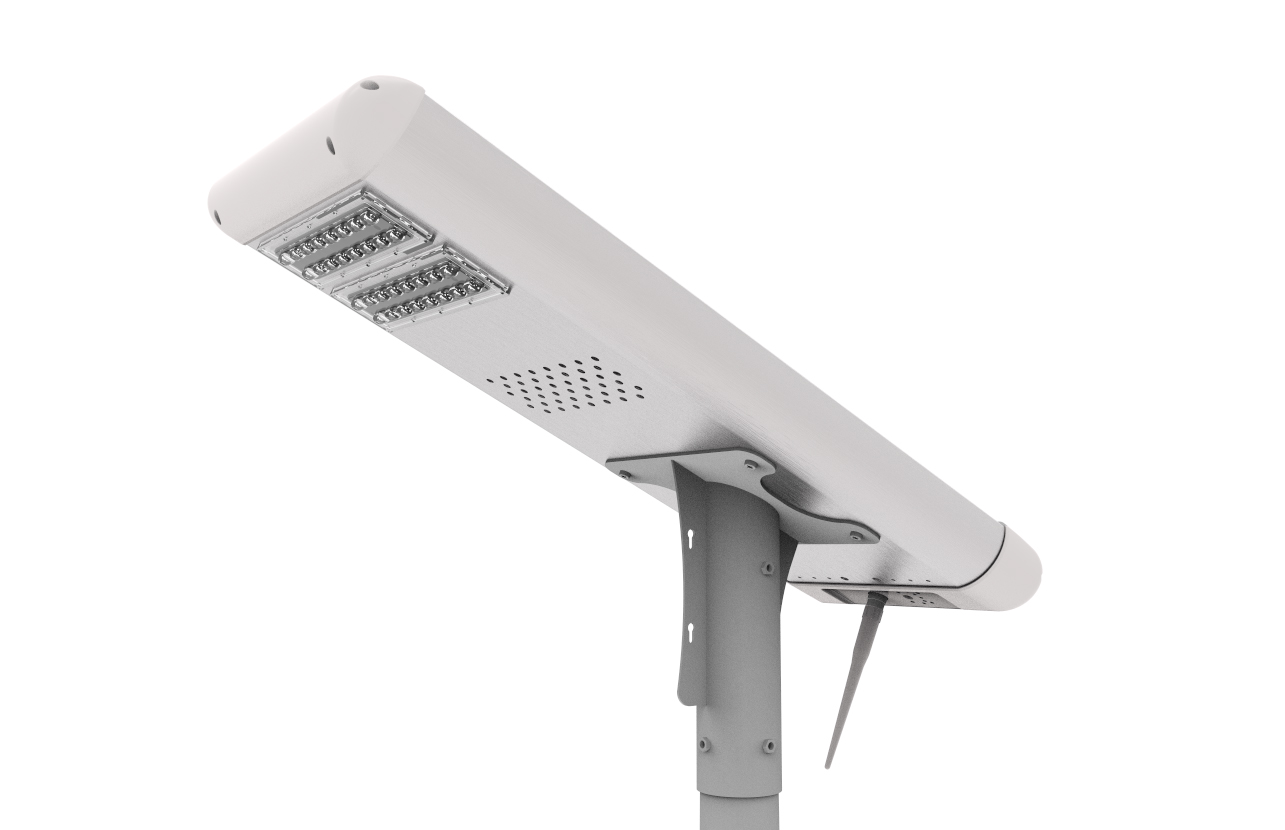 HP-5000 4000LM / 5000LM available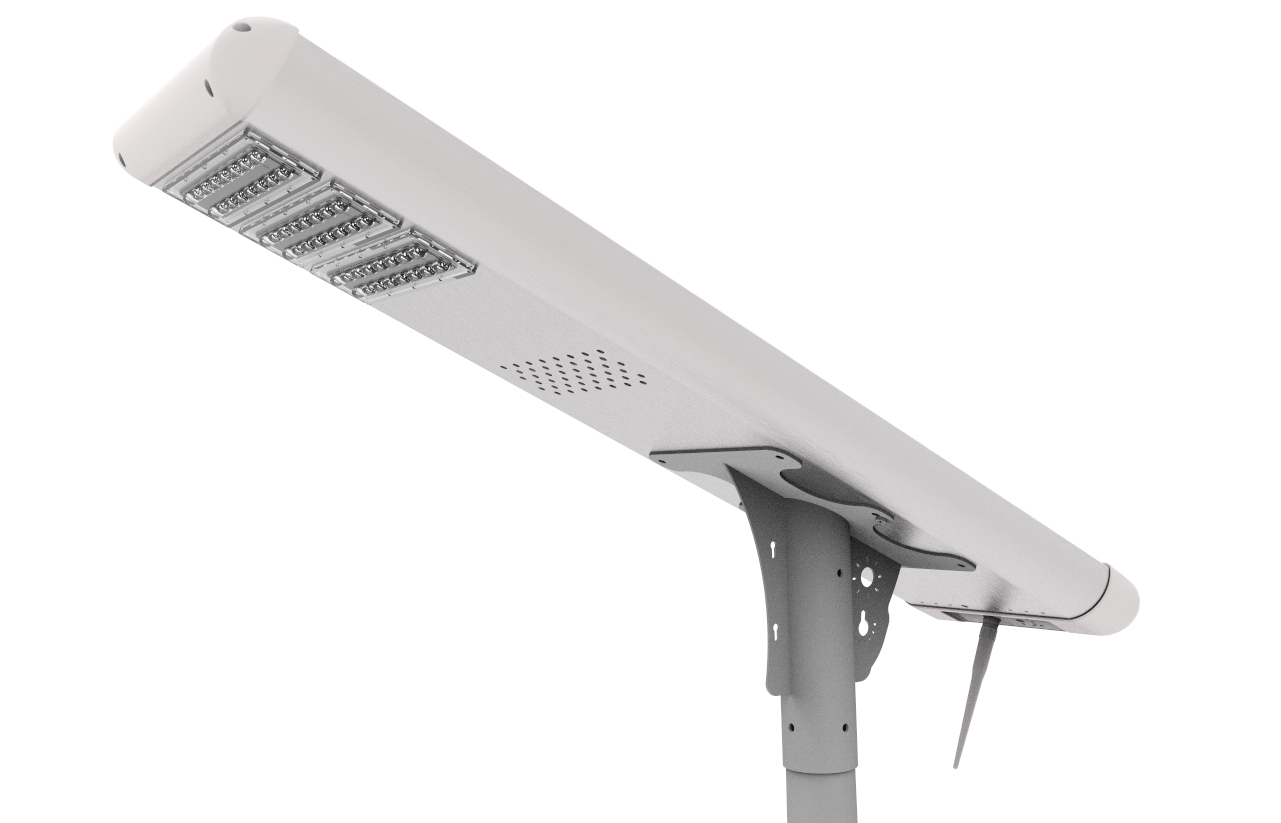 HP-8000 6000LM / 7000LM / 8000 LM available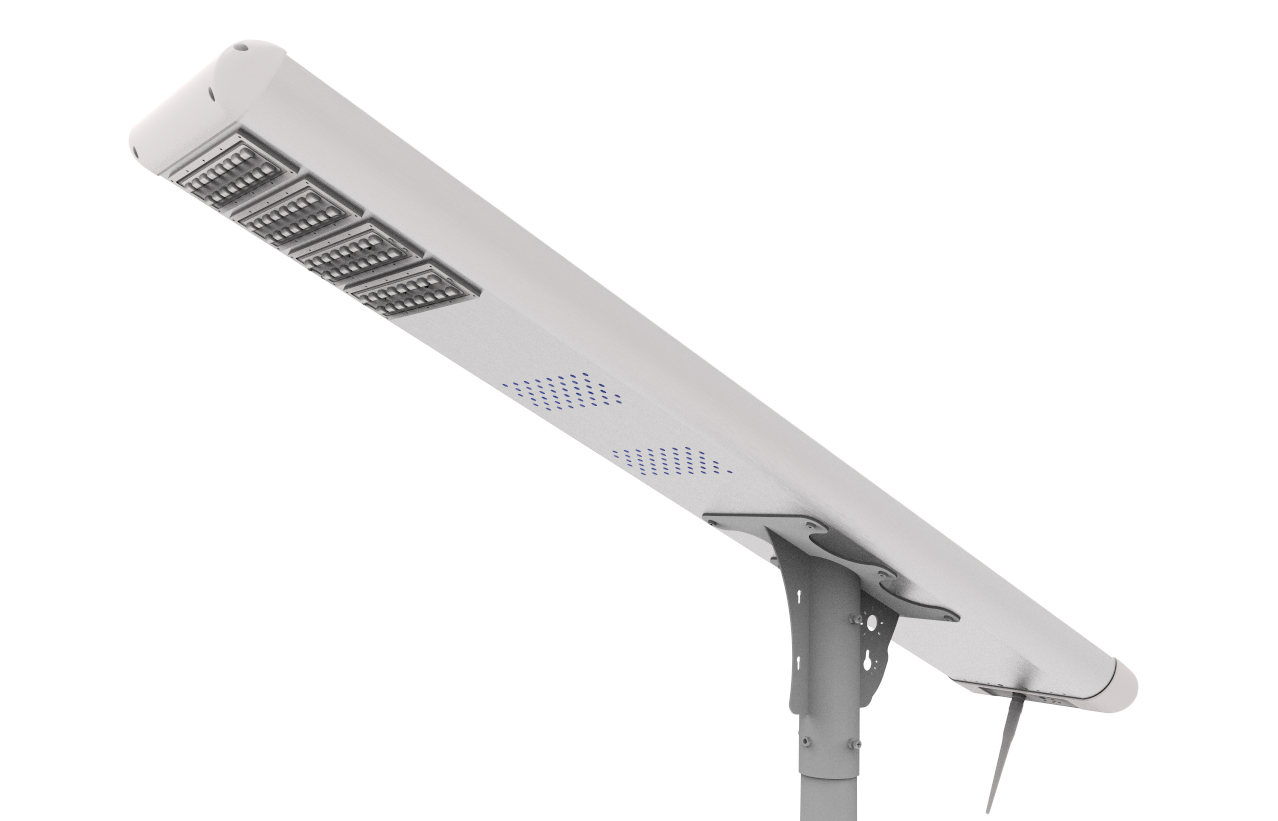 NOMO KEY TECHNOLODGE
We provide a "total solution" approach that is trusted by government municipalities throughout the world.
NOMO all in one solar street lights was designed to offer cost effective illumination for a wide range of applications.
NOMO is the developer of 'all in one' solar lighting solutions.
NOMO all in one LED solar street lights with intelligent control system with features:
1. Real intelligent controlling system powered by Zigbee tech & GPRS
2.Patented All in one design, High strength entirety aluminum profile, private mold, gorgeous and durable
3..Auto cleaning System
4.Intelligent Controller
5.Battery Management& Energy Pack
6.LED lighting module and lighting distribution system
7.Efficient assembly&dis-assembly structure
8.Battery safety system,Unique heat dissipation design and integrated drawer type battery box inside ensure lighting working performance.
9.Adjustable fixture , 90°X360°angle adjustable holder, non-shadow.
NOMO all in one solar street lights absorb energy from the sun and convert it into battery electricity storage and power the illumination when it is dark. Their integrated photo-voltaic module, controller and Li Fe PO4 battery combine with high output LEDs and NOMO lighting managing system.
It's provided with NOMO intelligent control system to gain the solution of low-energy, long-time, high-luminance and free maintenance. As well as, it's convenient in the shipment and installation.
Nomo all in one solar street lights are the world's very advanced generation 'All in One' solar lighting system that has been designed to offer extremely INTELLIGIENT and cost-saving illumination for a wide range of high way and street lighting applications.
It is intelligent by utilizing ZIGBEE tech controlling the working brightness, dimming, maintenance , time plan , inspection, also a program-able MPPT controller ensuring maximum efficiency and electrical conversion from the limitless power of the sun directly to the powerful and compact LiFe PO4 battery system, additionally the light head features a most healthy lens that automatically ensure the output brightness rightly.
The all in one solar street lights are very simple to use, no separate battery pack required and no complicated wiring or settings.
The lights will switch on when the sun sets and switch off­ when the sun rises.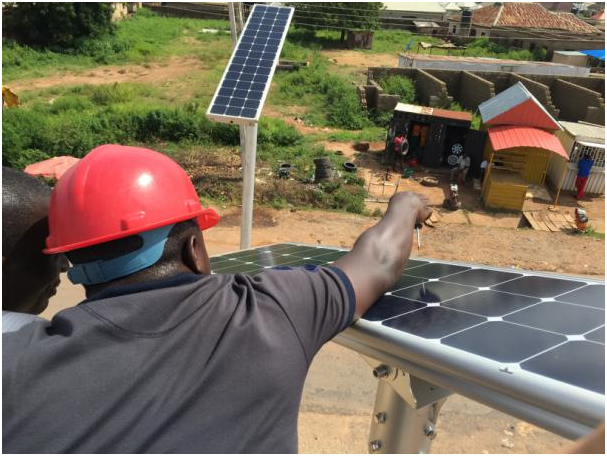 NOMO all in one LED solar street lights with intelligent control system
General specifications :
Viewing angle 120°
Temperature colour: 2500 to 6000 K (warm, pure, cool white)
Solar panel high efficiency mono crystalline cells
LiFePo4 long lifetime >7years
Charging by sun 6-8 hours
Lighting time adjustable 8-12h, 3 continuous rainy days
Protection grade: IP65
Working life > 50.000 hours
The most important components for NOMO all in one LED solar street lights with intelligent control system
1 - Intelligent DTU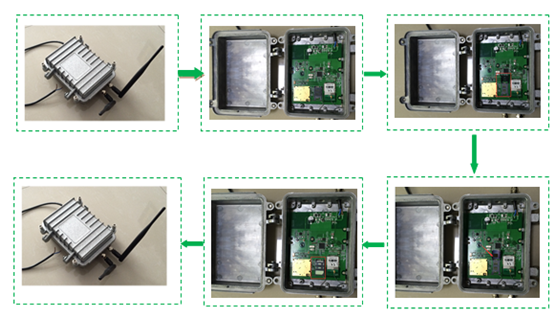 The intelligent controlling system:
1. Battery :Charge , discharge and DOD , over load, over current for the cleaning system
2.System Function : Through the solar street light intelligent management systems and wireless control module on the street unified management, to achieve the lighting remote monitoring , real-time monitoring , intelligent control , energy saving performance
3. Management : Monitoring the working status for the street lighting system at real-time.
4. Alarm : Displaying any fault of lighting problem and alarm information.
5. Display : Electronic map display position control terminal , lights. 6. Operation : Lights can be operated, time control , light control, dimming and charging and discharging control , status for the real-time display lights, solar panels , battery information.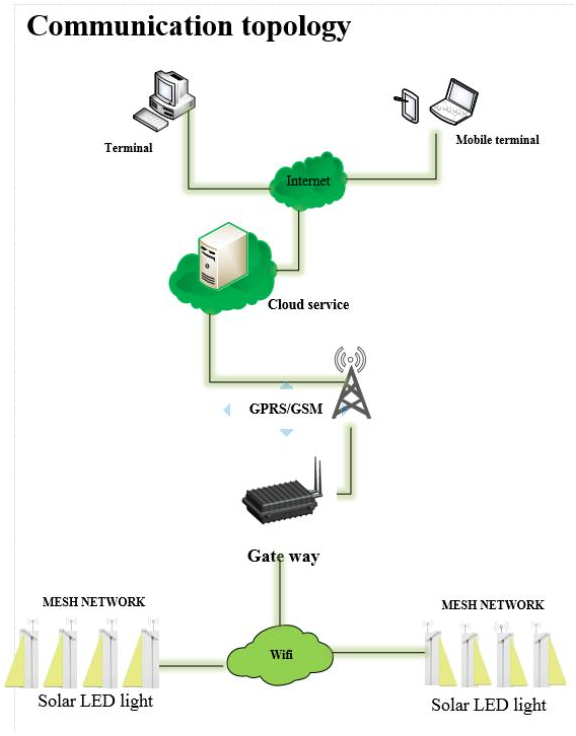 Real time remote monitoring and management
Smart Planning tasks
Email,SMS message,intelligent Early-warning
GOOGLE map Control of latitude and longitude
Data Generating curve statistics
User permissions
Generating curve statistics
Location function of geographic informatio
2 - LED lamp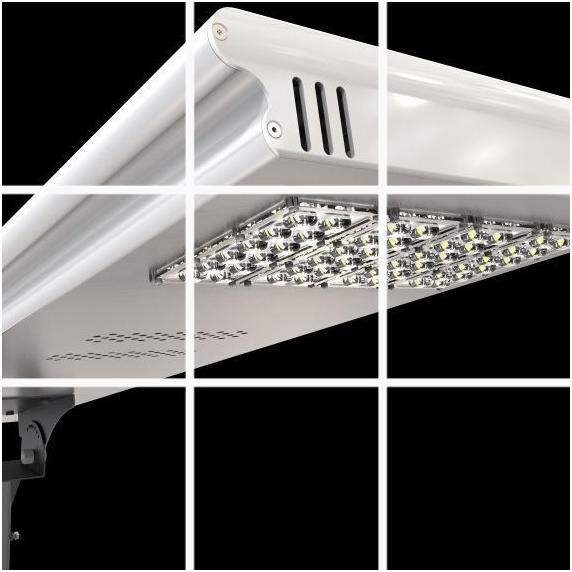 Applied the highest efficacy above 180 lm/W super bright LED in the world.Through optimizing "White conversion technology." the lifespan of the LED chip has also increased greatly. As per the LM 80, the LED lighting reliability evaluation , the average lifespan of LED chip is more than 50000 hours.
Lighting distribution: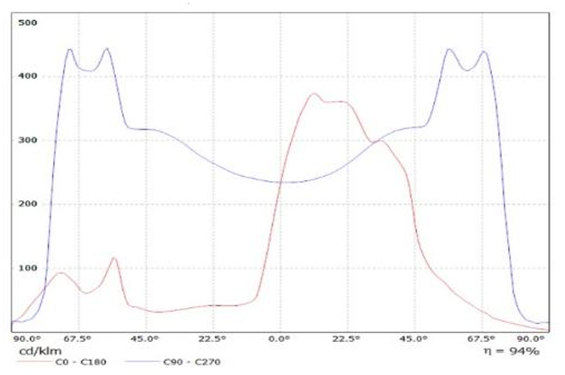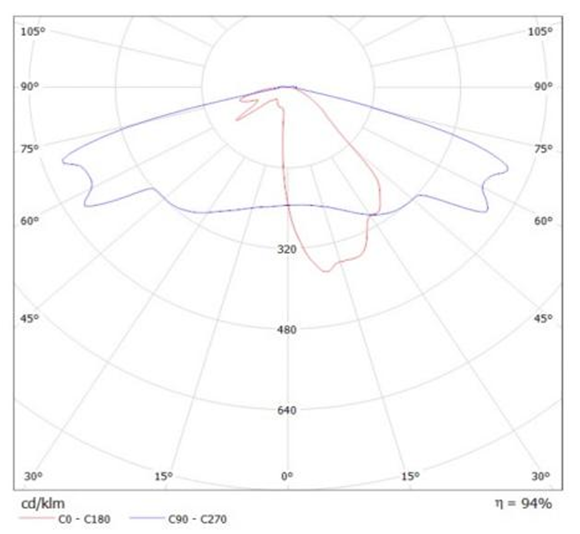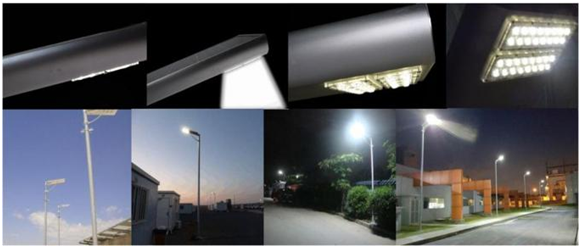 3 - Power Management Controller
MPPT controller regulates and protects power to lamp and battery packs, with more protection function
1). Over input or output protection
2). LED soft starts function; reduce the electric current impact to LED lamp bead;
3). Lightning protection
4 - LiFe PO4 Battery
Lithium iron phosphate(LiFePO4 battery) is a type of rechargeable battery with the nominal voltage of 3.2V per cell. Because of its non-toxicity, high abundance of iron, excellent thermal stability, safety characteristics, good electrochemical performance, long cycle life and high specific capacity, it is widely used in electric vehicles.
The most safe LiFe PO4 Batteries offers 4 times more storage and power capacity versus traditional lead acid batteries.
Key Features:
1) Long cycle life: more than 2000 times (charge and discharge at 1C, 80% capacity retention after 2000 cycles).
2) High safety: no fire and explosion in overcharge test at the voltage up to 30V and in short-circuit test, nail test, and heat shock up to 130℃ test.
3) Good charging and discharging performance.
4) High discharge rate up to 10C.
5) Environmental-friendly: all raw material of the batteries are environmental-friendly.
6) Wide working temperature range: from -10℃ to 60℃, extremely cold and hot weather will not affect its performance.
Specification of The lithium iron phosphate (LiFePO4) battery, also called LFP battery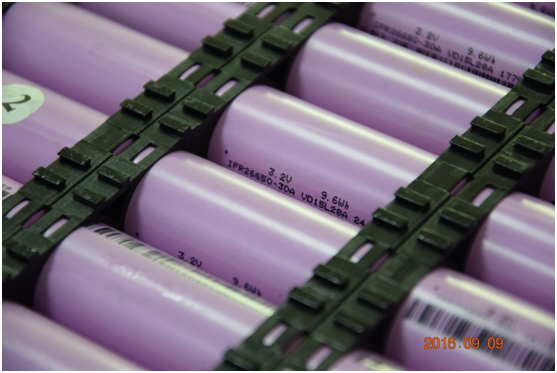 1. Cell voltage
Minimum discharge voltage = 2.5 V
Working voltage = 3.0 ~ 3.3 V
Maximum charge voltage = 3.65 V
2. Energy density
Volumetric energy density = 220 Wh/dm3 (790 kJ/dm3)
Gravimetric energy density > 90 Wh/kg[15] (> 320 J/g)
3. DOD cycle life
100% DOD cycle life (number of cycles to 80% of original capacity) = 2,000–7,000
10% DOD cycle life (number of cycles to 80% of original capacity) > 10,000
4.Cathode composition (weight)
90% C-LiFePO4, grade Phos-Dev-12
5% carbon EBN-10-10 (superior graphite)
5% polyvinylidene fluoride (PVDF)
5.Cell configuration
Carbon-coated aluminium current collector 15
1.54 cm2 cathode
Electrolyte: ethylene carbonate–dimethyl carbonate (EC–DMC) 1–1 lithium perchlorate (LiClO
4) 1M
Anode: graphite or hard carbon with intercalated metallic lithium
6.Experimental conditions:
Room temperature
Voltage limits: 2.0–3.65 V
Charge: Up to C/1 rate up to 3.6 V, then constant voltage at 3.6 V until I < C/24
5 minutes to 80%, after 40 minutes at 100%.
5 - Solar module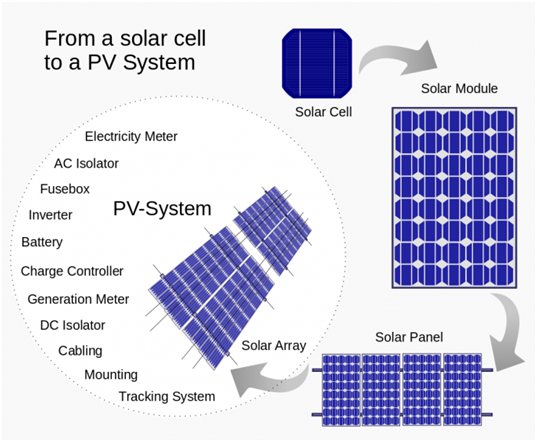 Mono crystalline PV module, highly efficient and tolerant to heat providing more output on a smaller footprint
1.Patented Outlook Design
The shape and design has been carefully studied to optimize all the construction. The outlook should be nice to be seen. This is why we offer customization service to our customers,in this way you can have the best solution with the best assurance on the market.
2.No Cable Needed Design
Solar powered outdoor lighting Easy installation so that you do not need any cables.
3. Light Weight Design
Entire and robust design saves shipping space and reduce your import cost and installation cost.
4.Rust proof design
AA 1000 Aluminum alloy profile with anodicoxdation treatment,anti rust and high strength.
5. Waterproof and Dust-proof design
IP65 standard protection level, and best solution applied for waterproof and dust proof.
NOMO all in one LED solar street lights with intelligent control system Application
NOMO one solar street lights are designed and developed especially for lighting high way lighting where need safe and stable lighting distribution.
High way ;patio lighting; Building Parking ; Bike Path ;Suitable for Courtyard / Garden / Park / Street / Roadway / Pathway / Parking Lot / Private Road / Sidewalk / Public Square / Plaza / Campus / Farm & Ranch / Perimeter Security / Wildlife area / Remote Area / Military Base ;Country street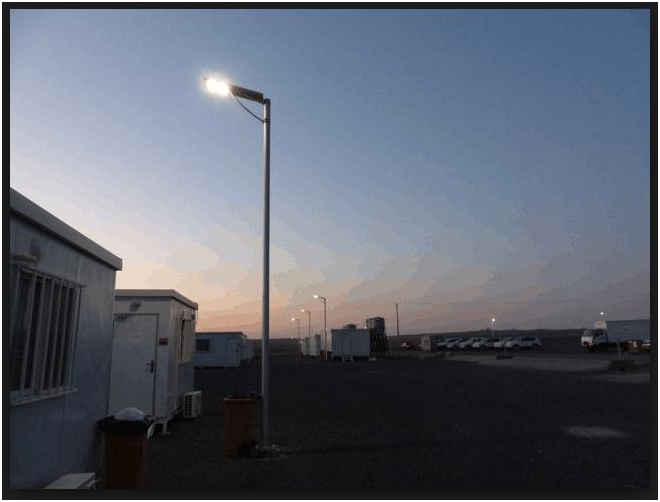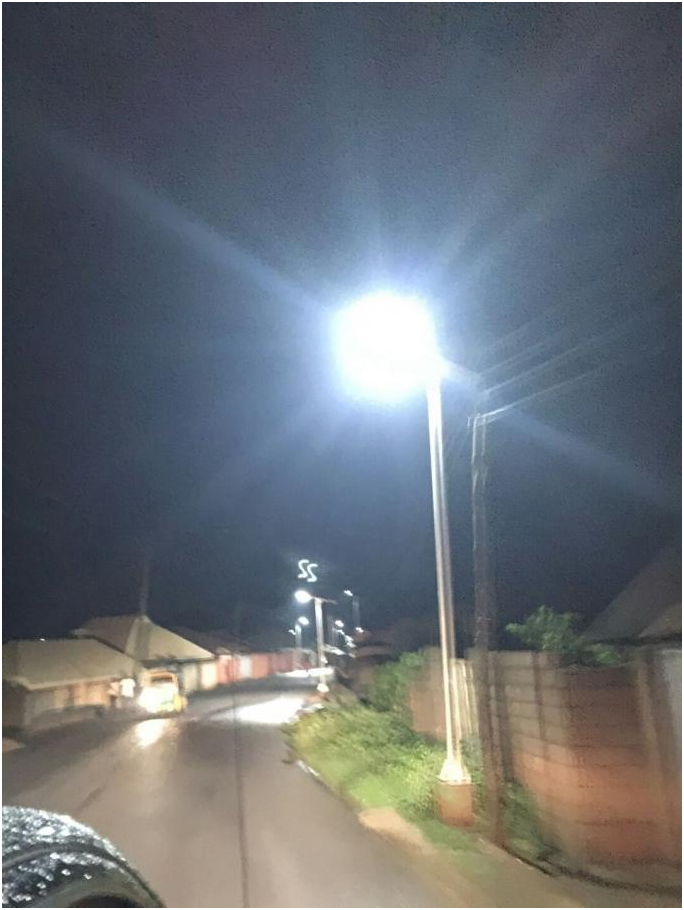 NOMO ALL LL IN ONE SOLAR STREET LIGHTS ' eligibility for various environmental influences
The protection type defines the eligibility of electrical operating materials, such as lamps, for diverse environmental conditions. Depending on where a lamp is installed, it will be susceptible to the surrounding influences. Outdoor or bathroom lamps require a higher level of protection against penetrating moisture or splashing water, than lamps in dry, warm living areas.
The IP-protection types reveal precise information on the degree of protection – the higher the number, the better the protection.


 

In the solar energy on the basis of the basic platform,intelligent integrated street lighting is a scientific innovation and technology across a high-end products, integrated solar energy-related technology components to improve the overall performance of the product at the same time, pay more attention to optical light distribution and Structure optimization, while the patented design not only reflects the scientific design, pay more attention to the use of the product convenience and humanity, greatly enhance the product experience.In the project and engineering applications, the introduction of Internet of Things technology and Zigbee module wireless transmission, efficient and safe, low power consumption, free frequency band, a separate server and authorized operating platform, wireless control of the work mode, routine maintenance check, Found that early warning and planning, command execution, etc., thus greatly increasing the safety and reliability of road lighting, while greatly reducing the cost of maintenance, improve the value of the project and image. In addition the patented control system is stable and reliable, waterproof insulation, drawer type battery box, long life humanization.
NOMO things network lights not only stylish and generous, and can be customized according to customer requirements, flexible application for municipal projects and highway lighting, illumination and light distribution level higher than the industry level.

Now the energy saving is not just a slogan, nor is it a high threshold of things. On the manufacturers, the lighting industry in recent years set off a highly efficient energy-saving boom, but get the street lighting industry prospects are not surprising, a good street lamp and product standards also largely reflect the lighting manufacturers competition Force and brand image.
At present, the mainstream road lighting street lights can be divided into the following types:
the traditional metal halide lamp, energy saving LED lights, split solar street lights, ALL IN ONE solar integrated street lights, intelligent solar integrated lights. If there is a small cost of consideration, the traditional metal halide lamp is suitable, low cost, low cost; have sufficient power supply at the same time labor costs are not high, LED street lights more appropriate; sun sunshine conditions are shortcomings of mountainous areas, low cost of installation personnel,
It can choose split solar street lights; project time is short and the installation cost is high and the lack of installation of technical personnel, that the solar one light for; municipal project quality requirements, requiring lighting to achieve real-time control and maintenance-free, wireless remote control, engineering and technical requirements, Lack of technical and maintenance personnel, consider the use of cost later, the pursuit of zero-cost project operations, and enhance the image of the project, choose intelligent integrated street lamp is the most suitable.
The difference between installation of split and all in one
The installation process directly affects the speed of installation, the installation speed directly affects the cost of the project.
1. Split Solar street lights installation :
We can understand from the installation of the split solar street lights,for the installation of the split type solar street light, people need todig the cage pit and put poles. The storage battery also dug pit, in order to let the battery to be protected from rain and flooding, the battery should be buried inside wateroproof case or underground, and then to install solar panels, install lighting lamp, fix these kits, but also need internal wiring make the system work.
2. All in one solar street lights installation :
Simple and safe way : digging cage, installation of lamps, light up, street lamps will be installed.
Installation summary:
from the above comparison can be seen in the installation, the installation of a split type solar street time takes time to 2-2.5 hours. The all in one solar street lights takes 30min- 1hour only.
As well as the integration of the light source, the installation process is omitted, so that the installation speed is greatly improved, saving the construction cost of the whole project.
We can understand the installation costs, maintenance costs, split type is more expensive than all in one, and all in one much cheaper, so that more and more people choose all in one solar street lights.
More information about nomo all in one solar street lights hyperion
I. Note:

● The work time depends on the weather condition, the season and the location
● It is waterproof, but limited to rain and moisture( cannot immerged into the water or stay in the water too long).
● Please be sure it is installed in a well-lit location where the solar panel can get maximum sunlight during the day.
● The fully charged street light can be stored up to six months. Please take timely inspection and charge the battery after a long time transportation and storage so that the battery can perform well.
● Facing south in the northern hemisphere and north in the southern hemisphere. Slope angle should be adjusted according to the local latitude. Solar panels must be installed in the sunny, no houses, trees shade place so that they can receive light all day ( Minimum requirements:9.00 am - 16.00 PM without sunscreen,)
● Keep cleaning the solar panel every few time so that the solar panel can generate power at maximum efficiency.
II. The Installation Instruction
1. Pole installation. Pole length range from 4-8m with diameter size 70-80mm, wall thickness over 3.0mm.
Shipment packages
Packing and weight :
Packing 1375*420*140mm (lamp body) 8. Parts :370*310*305mm(2 sets )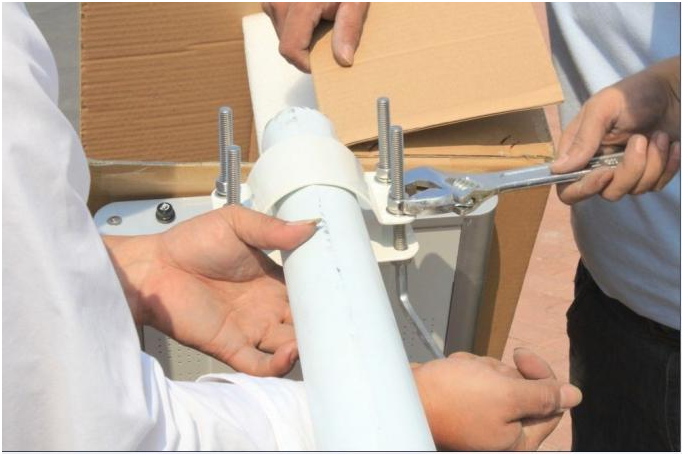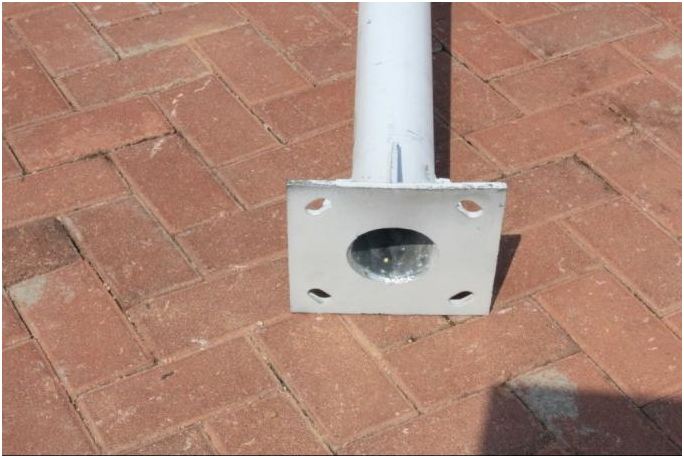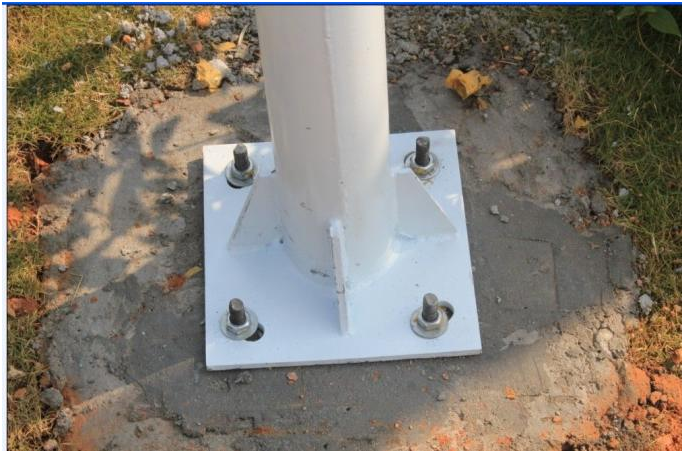 About NOMO group factory :

We have around 10 years experience in manufacturing solar all in one street light , so far we have done projects in usa, uk , mexico,parts of africa , parkistan , EU and many other countries .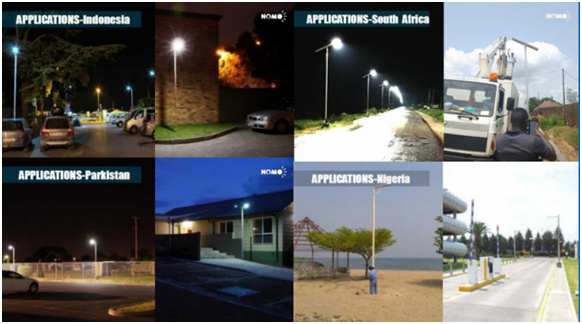 Production line :
We focus on high quality solar street light production and sale , we always use the best qulaity LED chip , Top Level lifepo4 battery , high efficency solar panel more than 21.5% and mppt controller to manufacturer the best ever integrated solar street lights in the world .
Projects samples :
We welcome clients all around the world to test our smart solar street light and benefit each other . Smart solar street light is the trend .
Quality control: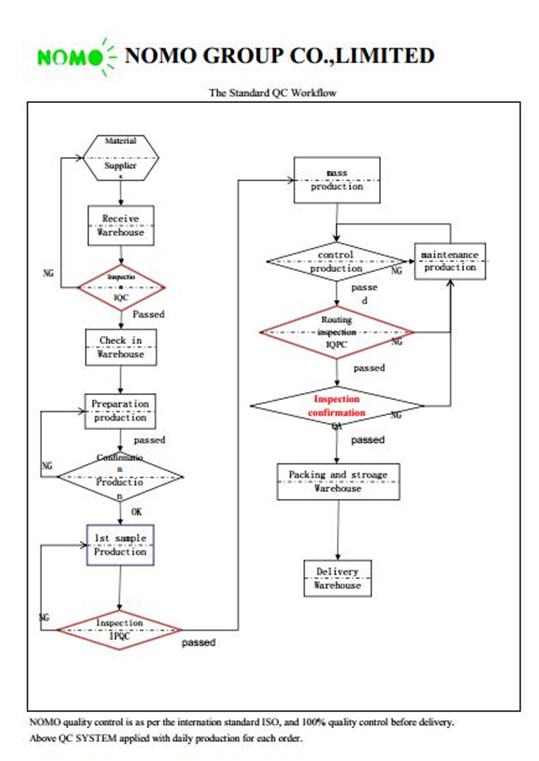 RFQ :
Q1. Can I have a sample order for led light?
A: Yes, we welcome sample order to test and check quality. Mixed samples are acceptable.
Q2. What about the lead time?
A: Sample needs 3-5 days, mass production time needs 1-2 weeks for order quantity , please send us your detailed requirement and quantity we will give you confirmation
Q3. Do you have any MOQ limit for led light order?
A: 1pc for sample checking is available
Q4. How do you ship the goods and how long does it take to arrive?
A: We usually ship by DHL, UPS, FedEx or TNT. It usually takes 3-5 days to arrive.
Airline and sea shipping also optional.
Q5. How to proceed an order for led light?
Firstly,let us know your requirements or application.
Secondly,We quote according to your requirements or our suggestions.
Thirdly,customer confirms the samples and places deposit for formal order.
Fourthly,We arrange the production.
Q6. Is it OK to print my logo on led light product?
A: Yes. Please inform us formally before our production and confirm the design firstly based on our sample ( SAMPLES LOGO WILL CHARGED AS PER THE DESIGN).
Q7: Do you offer guarantee for the products?
A: Yes, we offer 3-5 years warranty to our products.
Q8:How to deal with the faulty?
A: Firstly, Our products are produced in strict quality control system and the defective rate will be less than 0.2%.
Secondly, during the guarantee period, we will send new lights with new order for small quantity. For defective batch products, we will repair them and resend them to you or we can discuss the solution including re-call according to real situation.
Q9 : What is all in one or integrated solar street lights
OMO All in one solar street lights also called integrated solar street lights, which is a combination lighting system connecting high efficiency solar panel, 8 years lone lifespan Life PO4 battery, high lumen up to 180lm/w COB /SMD LED module, MPPT intelligent controller, OPTIONAL motion sensor, OPTIONAL intelligent operation & maintenance software, anti theft profile ect as a whole illumination integration application.
Q10 : How solar street lights work ?
Nomo all in one LED solar street light taking the advantage of high efficient solar panel convert the the sun energy into electricity power, and charge the LiFe PO4 battery. And the OWN developed MPPT controller get the conversation in a re cycle and safe working, and ensure the high efficient charging. At the day, the solar panel collect the sun energy and and the battery store the power, so as to supply it to the LED light automatically at night( the time of lighting can be set up), meanwhile the optional motion sensor detect the human being movement, at this working mode, the light can be set 30% (pre setup) when no body detected,and 100% lighting when body movement, after 60-360seconds the body move out, it will return back to 30% to save more power. As the sun energy is a kind of inexhaustible,safe, eco friendly energy, it act a very import role for future development. So know about it, you will know more about nomo solar street lights.
Q11 : Where i can use solar street lights ?
All king of transportation way : Highway, city street, city path, residential road, family courtyard, mining area, government administration area, place without electricity, park, parking lot village, ect.
Q12 : How available are replacement batteries?
The battery is available to replaced and it is designed as drawer, simply you can take the old battery out and put in the new battery.
We have also provided detailed (easy) instructions and pictures for changing the battery in the light, there are screws at the base to take out,and the easy reassembly accomplished. we have already tried it with success in our projects.
Q13 : What height and size area would it light roughly?
Pole from 3-18M height,the light spreads out at a 90°X360°angle adjustable holder ,non-shadow, and should give you about wide square of light depending on the angle that it is mounted at.
Solar light features
1. Solar Panel auto cleaning system( Optional )
2. Smart Internet system,remote controlling,make the real inteligient lighting (Optional)
3. 5-8 years lifetime top level LIFE PO4 battery, withstand high temperature up to 60 degree,safe and no exploded risk.
4. Unique heat dissaption design and battery case inside ensure the lighting working performance.
5. Super brightness LED Chip : CREE / PHILIP/LG/ SAMSUM best SMD and COB led chip, best solution by own tech up to ensure 180lm/ W lumen.
6.High Strength entirety aluminium profile,gorgeous and durable.
7. Professional street light illumination distribution
8. Efficiency >21.5% solar panel
9.90 degree by 360 degree angle adjustable holder,no shadow.
您可能喜欢